Stonefield Query Reporting Software
Download Trial Watch video Schedule Demo View documentation
Stonefield Query from Stonefield Software Inc. is a self-service, ad hoc, query and reporting solution that enables you to create and deliver business reports quickly and efficiently. Stonefield Query works with virtually any database, including Oracle, Microsoft SQL Server, IBM DB2, MySQL, Pervasive SQL, and many more. It even works with other types of data sources, such as Microsoft Excel spreadsheets, text files, web services, and anything with an API for data access.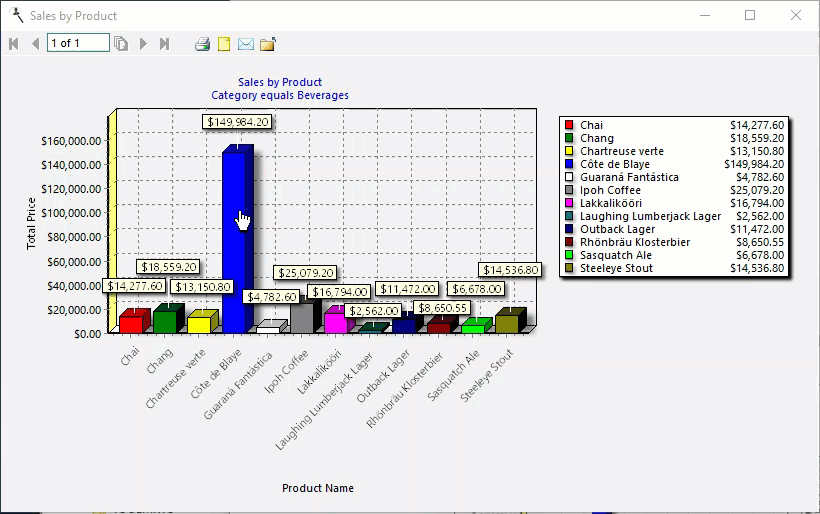 ---
Reports When You Need Them
Business users are frustrated by the time it takes for reports to be created by other people or departments. Stonefield Query gives them the ability to create their own reports when they are needed, anytime, anywhere.
Stonefield Query removes the reporting roadblock or "IT Bottleneck" when organizations customize a reporting application specifically for their data sources. All the technical information that's typically needed to create a report is built in and stored in a data dictionary. Therefore, business users can focus on getting the answers they need without needing to learn how to program a report or having to go back to IT for help.
---
Features
Stonefield Query has the following features:
No Database Experience Necessary

No need to understand database structures, joins, the SQL language... Stonefield Query has you covered with its built-in knowledge of your database. Descriptive names are used for all fields and tables rather than cryptic database names. Descriptive operators such as "equals" and "greater than" appear instead of "=" and "<."
Reporting Made Simple

Stonefield Query walks you through the reporting process in 6 easy-to-follow steps so you can build professional reports in minutes, not days.
Fine-Tune Your Reports

You can customize how each field appears, including column heading, grouping, sorting, and totaling. The easy-to-use filter dialog allows you to include or exclude specific records. Use the sort page to order the information as you need it.
Creating Any Type of Label

You can easily create labels, including mailing labels, product labels, or barcode labels, without worrying about field positioning or label dimensions. All common label sizes are built-in.
Output Your Way

Preview or print reports, or output to PDF, Microsoft Excel, or just about any file format you can think of with just a few mouse clicks. You can also email reports.
Handles Code Fields

Displays the expected value for many code fields rather than the actual values stored in the database so you don't have to figure out what those coded values mean.
Drill Down Reports

You can drill down from a report to see details. Drill down supports an unlimited number of levels.
Template Support

Templates give your reports a common appearance, such as following corporate style guidelines.
Schedule and Automatically Deliver Reports

Automatically deliver reports via e-mail, file, or printer. Schedule them to run anytime you need them to, and never miss a reporting commitment to your peers, customers, or vendors.
Charts, Graphs, and Dashboards

Create bar, line, area, and pie charts as well as series charts. Dashboards combine multiple charts into one consolidated view of your data. Zoom in and out on the dashboard, update individual reports manually, and output the dashboard to file.
Microsoft Excel PivotTable Reporting

Extend your data analysis with Microsoft Excel PivotTables.
Create Your Own Custom Formulas

Define your own custom calculations to use in any report. Use any of the hundreds of built-in functions or create your own.
Filters and Exclusions

Filters allow you to narrow down your results without programming, such as product sales by customer for this year, month, or week. Exclusions allow you to report on things not recorded in the database, such as all companies that bought something last year but not this year.
Multiple Database Support

You can run reports on more than one database. You can even consolidate records from multiple databases into one report. For example, you could show all outstanding invoices from all companies on the same report, including showing which company each one came from.
Built-In Security

Control which users can access which fields and tables, which reports, and what functions they can use.
Powerful Reports at Your Fingertips

Don't be fooled by our ease-of-use. The Advanced Report Designer allows you to lay out the report exactly as you want, including company logos, lines, boxes, etc.
---
SDK Product Tiers
The Stonefield Query SDK is available in three tiers: Ultimate, Pro, and Starter.
Ultimate is the full-featured version of the SDK and is designed for developers creating reporting solutions for their customers. It uses the full version of Stonefield Query Studio to provide for all of your customization needs.
Pro is a less expensive license intended for consultants, IT staff, or technical people creating a reporting solution for internal use or who do not need to create a branded version of Stonefield Query and who need fewer features in Stonefield Query Studio.
| | | |
| --- | --- | --- |
| Feature | Pro | Ultimate |
| Automated process to read the database structure from any database | X | X |
| Use scripting to customize behavior and perform custom calculations | X | X |
| Generate customized setup executable for easy installation on user's system | X | X |
| View table and field contents for quick access to data | X | X |
| Supports virtual tables and stored procedures | X | X |
| Create a private labeled/branded reporting solution | | X |
| Import data dictionary from Microsoft Excel or XML | | X |
| Query data dictionary utility for mass updates | | X |
| Export data dictionary to Excel | | X |
| Generate customized (including branded) help | | X |
| Automated process to find possible relationships between tables | | X |
| Automated test of all relationships | | X |
| Application view support | | X |
| Studio Price | $1,200 | $3,000 |
| Report Designer Price | $240 | $240 |
| Report Viewer Price | $150 | $150 |
| Subscription Unlimited Report Viewer License | $3,800 | $3,800 |
Please note:
All prices are in U.S. dollars.
Software maintenance is 25% per year.
Product can be upgraded
Subscription Unlimited Report Viewer provides the ability to deploy an unlimited number of viewer licenses to an unlimited number of users as long as software maintenance is current
Stonefield Query Studio comes with one license for the Report Designer for testing or other internal use
---
System Requirements
Any version of Microsoft Windows released after 2006: Windows Vista, Windows 7, Windows 8, Windows Server 2008, Windows Server 2012, Windows Server 2016, Windows Server 2019, Windows Server 2022, Windows Terminal Server, Windows Small Business Server, Windows Essentials Business Server (also works in Citrix environments)
512 MB minimum memory (more is better)
50 MB free hard disk space
---
Sample Reports